An Ocean of Others - Sept. 6, 2022
First Dance of the Sibling Suns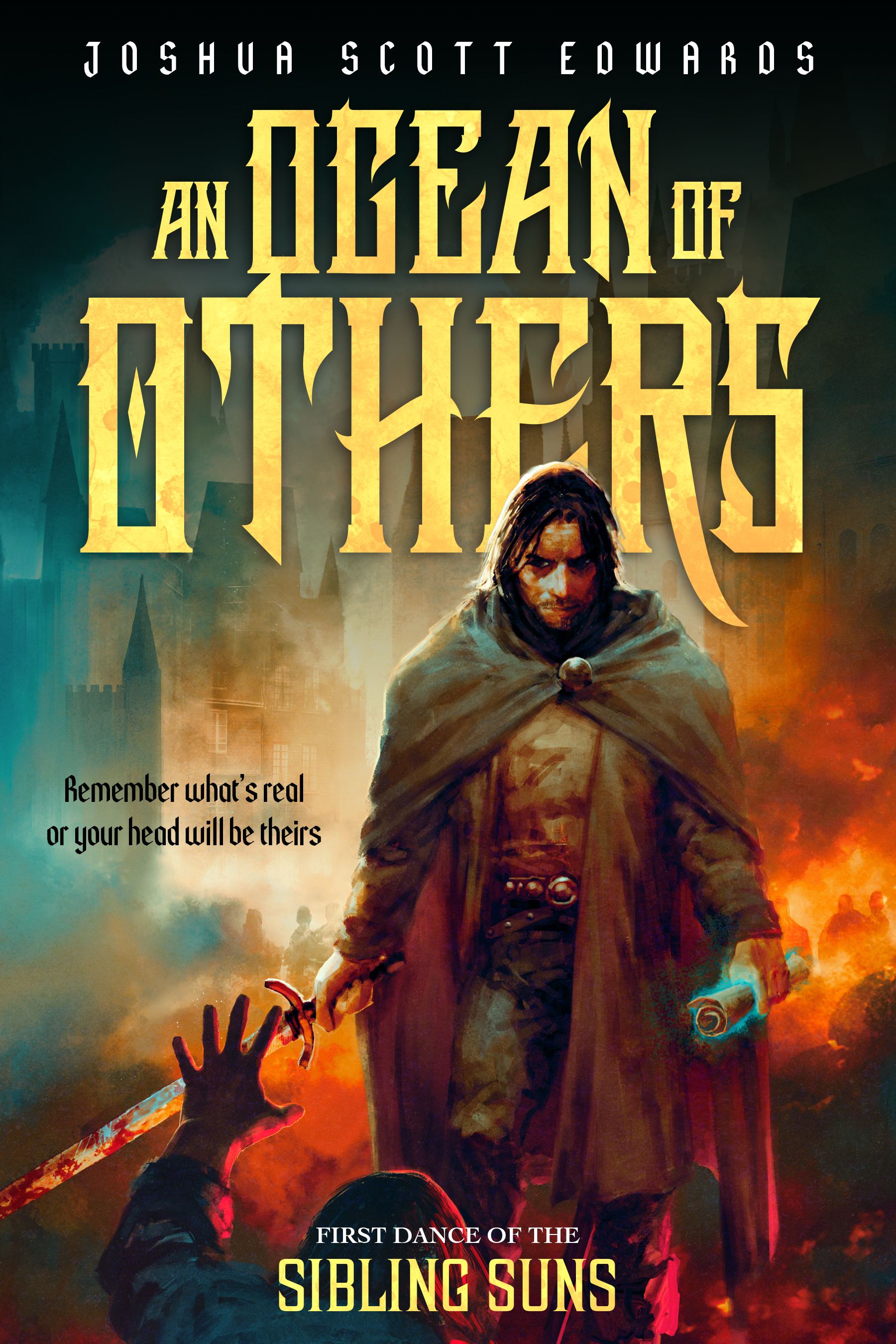 REMEMBER WHAT'S REAL OR YOUR HEAD WILL BE THEIRS

Survival is never easy, but it's never been harder for Grim, the last bounty hunter in Liwokin. He survived the Great Riot that killed Liwo by the thousands, endured the bloody chaos that ruled the city in its aftermath, and avoided the crushing fist of the Agency created to quell the unrest. Rule of law returned, but following the rules doesn't put food in your belly.

On a job gone wrong, Grim stumbles into a conspiracy that targets Ulken, the Head of the Agency, a man who has done more to ruin Grim's life than any other. Struggling to earn honest coin, Grim plans to use this information to rise quickly through the ranks of the organization so an empty purse never worries him again. He becomes a Finger of the Agency, joining a sardonic ranger, two fugitive siblings, a stone-skinned Skardwarf, and a powerful dark mage—none of whom know any better than Grim what they've gotten themselves into.

Grim's Hand soon discovers the Agency's furtive work is far deadlier than hunting bounties. While fighting to save his home from monsters who once were men, Grim discovers the conspiracy runs deeper than just Ulken and the Agency—what was unleashed is spreading, and if Grim's sanity doesn't prevail, it will consume the minds of the Bright Empire and beyond.

---
Grave of the Waiting
Alien meets Ready Player One in this sci-fi horror serial
Published
46%
(one chapter = ~3.5%)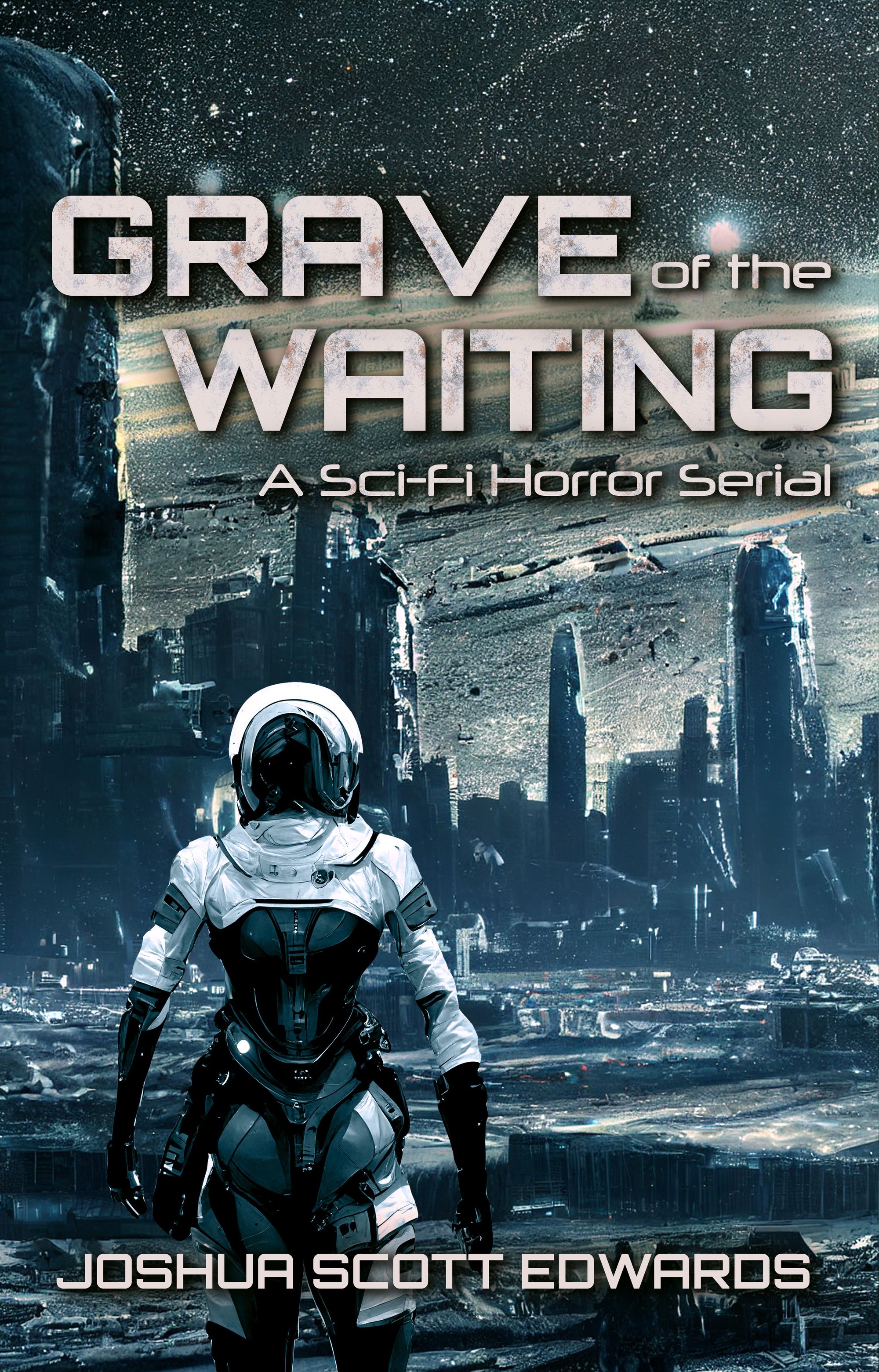 Status
Grave of the Waiting is now live! You can find all released chapters here.
New chapters will be released on the 1st of every month. To continue the story past Chapter 3, please sign up to the mailing list.
Synopsis
FROM DARKNESS THEY CALLED. FROM RUIN WE ANSWERED.

Humanity's extinction is just around the corner, Ada Bryce is sure of it. When virtual reality is indistinguishable from reality and anything is possible in the Chain, why not choose to remain shackled? It's easy to put Earth's slow decay out of mind when hedonic simulations are available with no more than a thought. As contemptible as her reality is, Ada is powerless to correct human folly. All she can do is make sure her own family's energy needs are taken care of until death inevitably claims everyone she loves.

Only, she's failing as a mathematician, she's already failed as a mother, and she's given up trying to escape the tragic memories that haunt her. So, when she's offered the chance to leave Earth while ensuring her family has the energy they need to survive, Ada seizes it and embarks on a dangerous mission. She travels to a rogue planet with four other volunteers: an Energy War veteran, a zealous psychonaut, a no-nonsense scientist, and the world-renowned founder of the Unity, the organization sponsoring the mission.

However, the Unity's founder is far from trustworthy, the rest of Ada's crew are unaware of the true purpose of their mission, and on this journey, they will learn that Earth is far from the worst place in the solar system. As firmly as Ada believes her home planet is beyond saving, it may be worth fighting for after all, for when she and her fellow crewmates step foot on a new planet, their presence awakens old life.

Life that calls out and seeks to reconfigure the Earth for itself.
---
Untitled Sequel to An Ocean of Others
Second Dance of the Sibling Suns
Status
The sequel to the first Dance of the Sibling Suns book is currently underway! Follow along with my progress on my Sibling Suns 2 | Trello board.
Synopsis
Forthcoming
---
Sequel to the Untitled Sequel
Last Dance of the Sibling Suns
Outline
0%
Status
The finale in the Dance of the Sibling Suns series. As I work on the second book, this one is slowly taking shape in the form of scattered notes and unfulfilled promises made by its predecessors. I don't expect any movement on this progress bar until late-2023/early-2024 when the second book is in the hands of beta readers.
Synopsis
Forthcoming