I've got big writing news this month, but first, a quick aside for two personal highlights from this September.
Engagement Photos
The first was when Rachel and I went to Longwood Gardens to meet our wedding photographer for engagement pictures. Our photographer, Dave Justo, did a fantastic job coaching us through the process, which involved a lot of me and Rachel staring at each other from a close distance and trying to make each other laugh. It was strange at first, but we persevered for two and a half hours, joking that it was good practice for the ceremony next year!
The images he captured were great too. Here are a few of my favorites: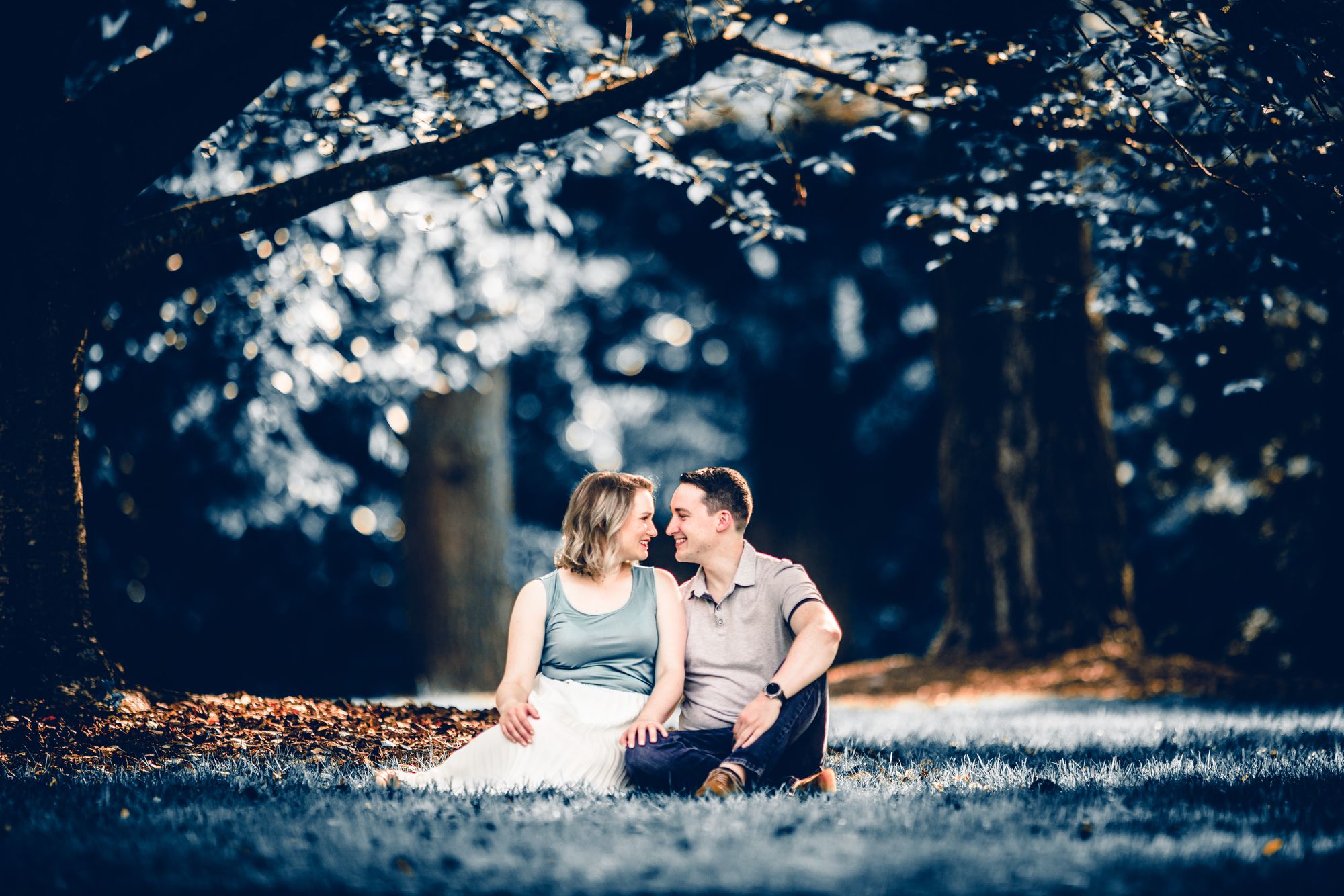 Florida Trip
The second big event this month was a trip to Florida to visit my mom, grandparents, and sister. With the pandemic's safety concerns, it was hard over the last year to see anyone. We had planned to take a vacation together last year, but as fate would have it, the flights were scheduled for May 2020, and well... you can guess what happened.
While in Florida, we went to Busch Gardens in Tampa, and Epcot in Orlando. At Busch Gardens, I think there were fewer humans than wild animals. Really, I don't think there was ever more than ten people around us at one time. That was fine by me – we walked on to every single ride in the park without a wait.
One of the highlights of the trip was getting to feed two giraffes and a sloth at the park.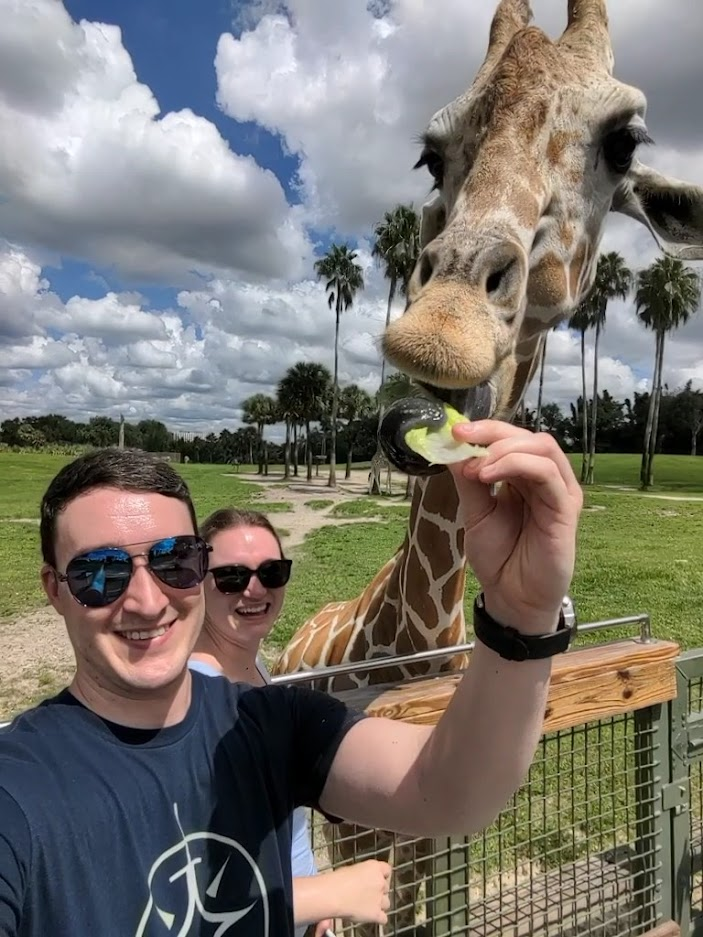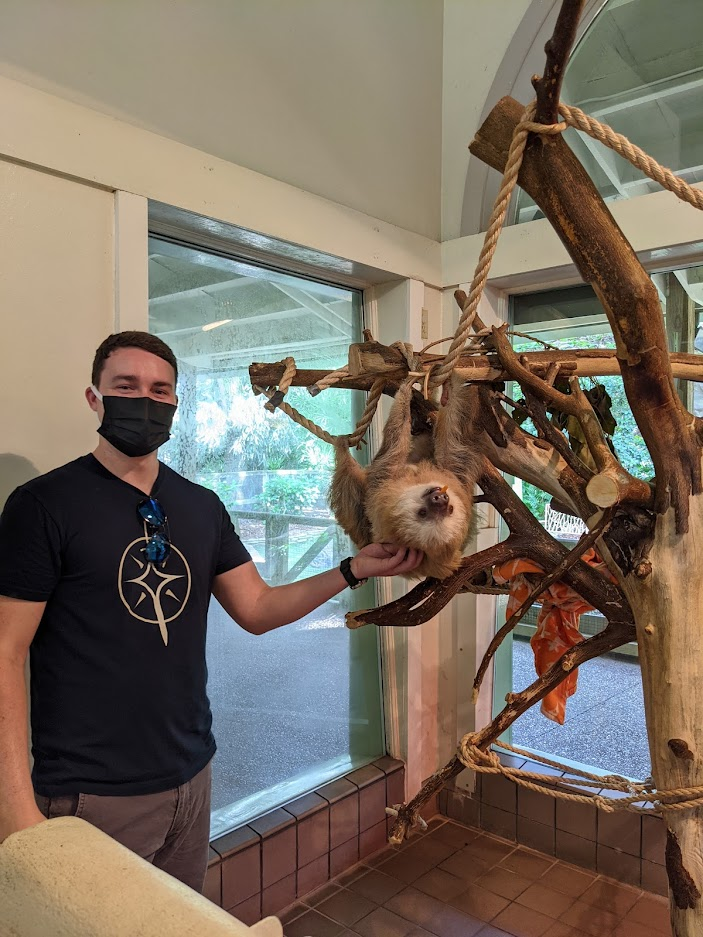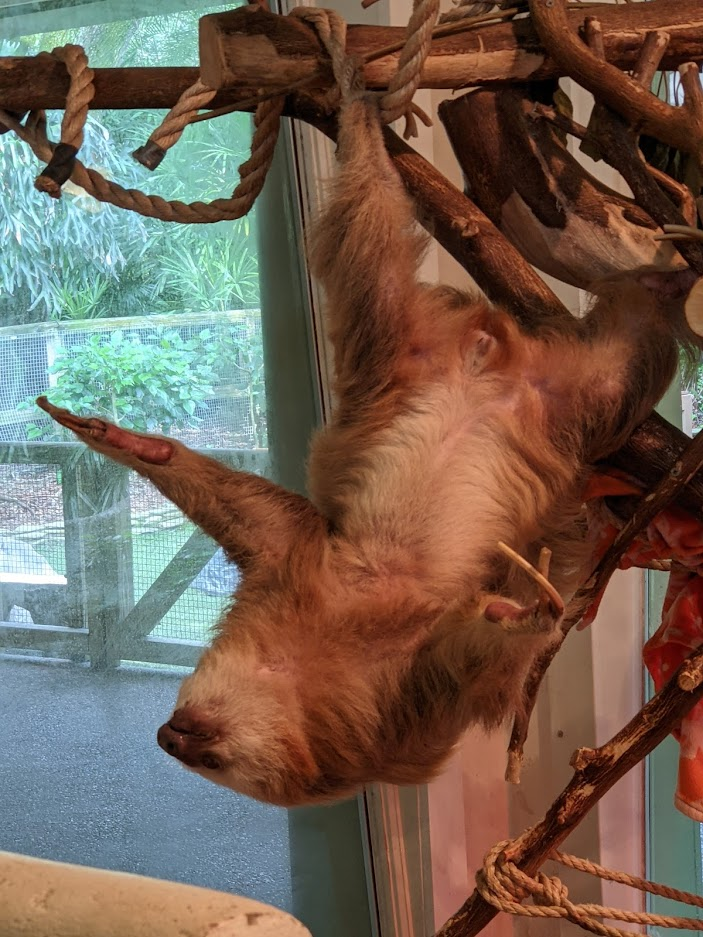 There were plenty of other animals as well, though I was just as happy not to feed them since some of them would probably kill me if I got too close.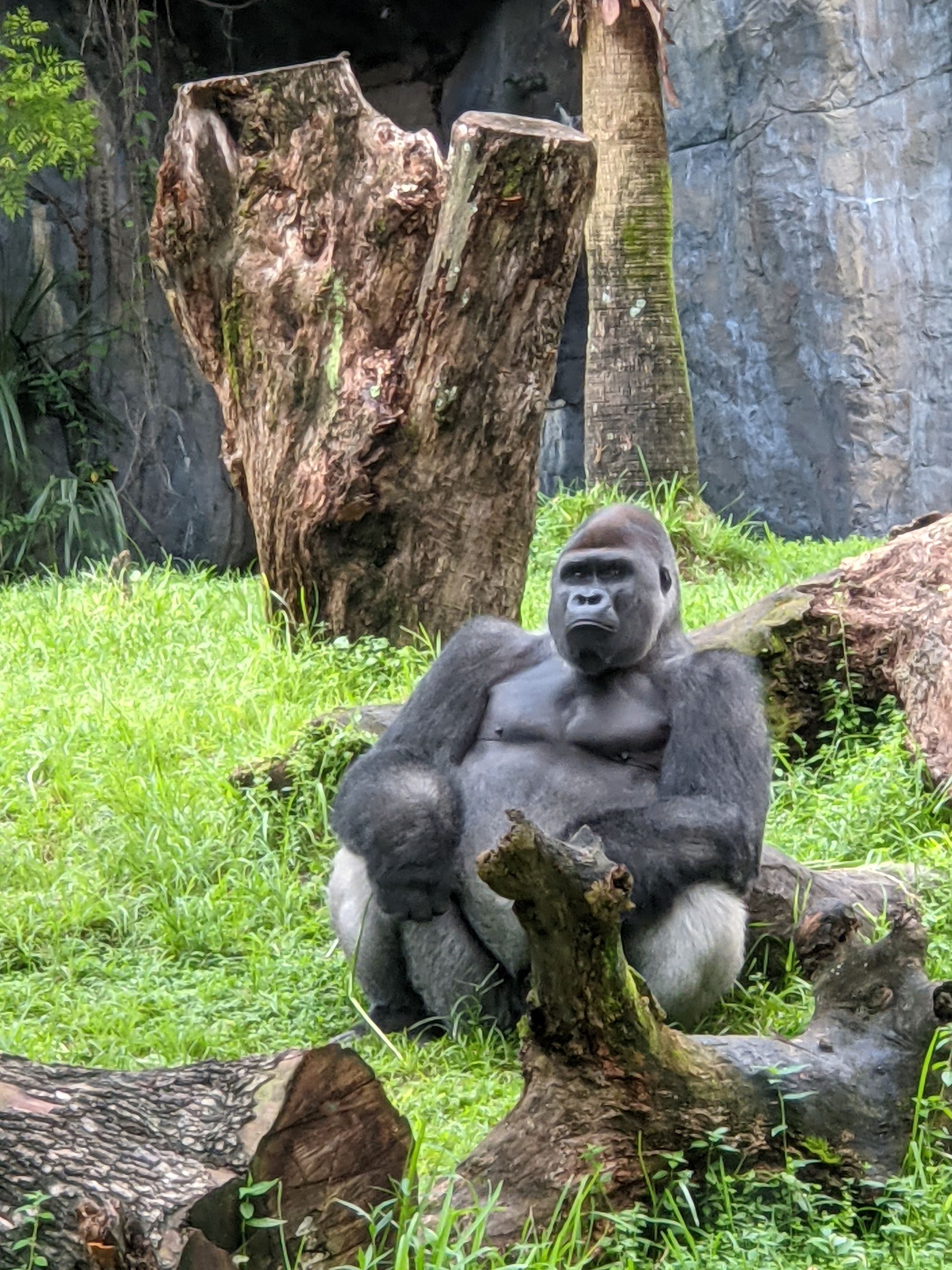 In Epcot, it was the Food and Wine Festival, so the place was a bit more crowded, but we still only waited for one ride. We spent longer waiting in line for super expensive food and tiny drinks, but it was still a fun time. Unfortunately, I didn't take any pictures this day because my phone nearly died during the car ride to Orlando.
On Thursday, I was scheduled for a flight home, but bad thunderstorms in Philadelphia cancelled my flight. That was all right – it meant I got to stay with my grandparents for another day, and the flight I rebooked the next day took off around sunset, so I got some beautiful pictures.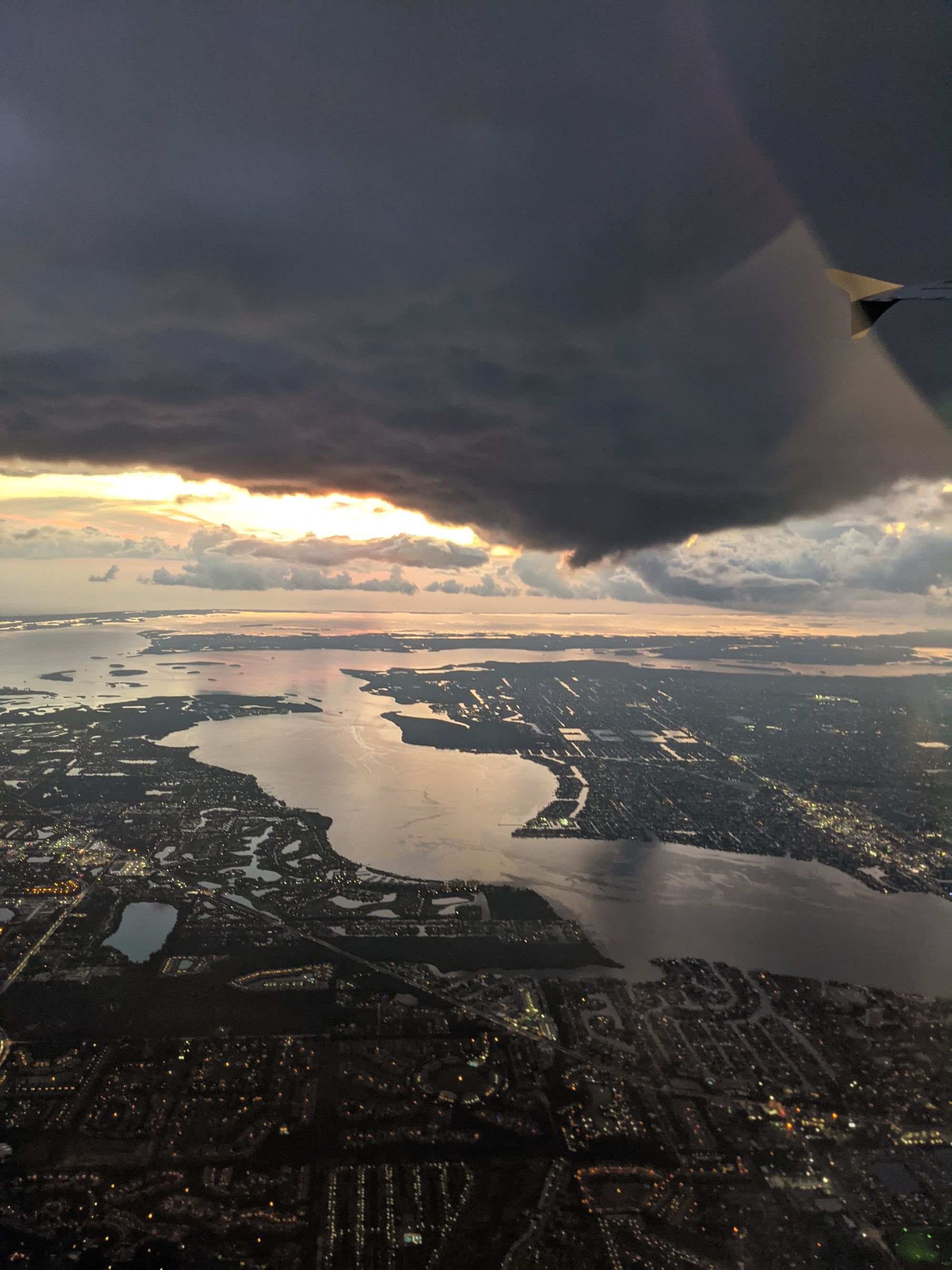 Drafted
Finally, we come to the big news: the third draft of An Ocean of Others is complete! The progress bar has officially been updated to 100% – cue the celebrations. 🎈🎉🥳

The manuscript ended up at 536 pages and just over 131,000 words. Funny, I was trying to lop off 10% of the 123k word second draft, and I've ended up adding 6% instead. Oh well. There's still another chance to cut it down later. I've handed the book off to a local editor, Stacey Kucharik, so she can help me shape up the writing ahead of publication. Incorporation of her edits should be done by the end of this year, but after that, there's still a lot of work remaining before it's time to release the novel.
I've got to commission a cover artist, an illustrator for some maps, and potentially an audiobook narrator. A proofreader has to be hired to make sure there are no typos (though let's be honest, there's always one or two that slip through). There's also a bunch of boring behind the scenes stuff that needs to be finished as well – buying ISBNs, registering copyrights, and all that jazz. In all, I think I'm well on track to hit my goal of publishing the book before next June!
Since the book is out of my hands for now, my goal this month is to finally jump back into the outline for Grave World. That's just the working title, by the way. I think I've got the story's real title in mind, but I'll wait to share that until after the outline is complete in next month's newsletter.
According to my progress bar, I've already completed 40% of the Grave World outline. Looking at it now, that might be true, but I'm not exactly sure. The problem is that I don't know how many chapters this story will need in the end, and I won't until the outline is much closer to completion. I've got a solid ending planned, and the beginning is shaping up nicely. It really comes down to how much I add to the middle. Right now, the outline is about 9500 words, and about half of that is notes about the characters and setting. Only ~5000 words of background feels thin to me, so I'm sure that section will expand. And if 40% is accurate, the full outline will be roughly 24,000 words. Time will tell how accurate my prediction was.
As you can see, I've got a lot of story left to plan and it needs to be ready to go by the end of October. Come November, NaNoWriMo begins, and I need to complete a big chunk of Grave World's first draft. Remember, one of my Big Three Goals for this year was to begin publishing this story as a serial on this site. Because I'm publishing one chapter at a time, this outline needs to be extremely solid, with more details than I would normally include. Otherwise, plot holes and road blocks will surely crop up! I've got a few strategies and different planning software to make sure that doesn't happen, but I'll wait until I'm more certain it's going to work before I share that. Perhaps next month. Oh right, at some point in this madness, I need to find time to write next month's newsletter too...
Huh, well, it might be a short one next time! Until then, follow me on Instagram or Twitter, or subscribe to the newsletter for the latest updates about my writing. As always, thanks for reading!